The SRS is delighted to announce the Biennial Book Prize 2022 goes to Suzanna Ivanič for Cosmos and Materiality in Early Modern Prague (Oxford: Oxford University Press, 2021). In an exceptionally strong field, Sarah Bendall and John Christopoulos were highly commended for their Shaping Femininity: Foundation Garments, the Body, and Women in Early Modern England (London: Bloomsbury, 2021) and Abortion in Early Modern Italy (Cambridge, MA: Harvard University Press, 2021) respectively.
The winner was announced at an online award ceremony, hosted by Nandini Das and John Gallagher with Jane Grogan, which featured pre-recorded videos from each of the authors of the shortlisted books. Comments from the judges and the videos are available to watch below.
We would like to extend our congratulations to all who were shortlisted for their excellent books.
Winner
From the wolf and lynx teeth found in a set of prayer beads, with a Lutheran sermon book in a sixteenth century burgher's house in Prague, this jewel of a book sketches in a rich material environment in which Catholic and Lutheran customs happily co-existed alongside a range of popular religious practices, often within the same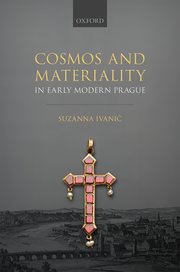 households. Making compelling use of objects, inventories, texts, and the natural matter within them, Ivanič challenges dichotomous understandings of confessional division in a century of religious upheaval. The complexity of personal devotion emerges, experienced within a cosmos shaped by the physical, social and the spiritual, in which individuals escaped confessional straitjackets to negotiate their own relationship with the divine. Its engagingly evidenced micro-histories of multi-confessional Prague and its clockmakers, butchers, and other burghers are triumphs in their own right. Yet Ivanič's arguments and the convincing insight of her material lens also hold profound and lasting implications for our understanding of religious and social change throughout Europe.
Highly Commended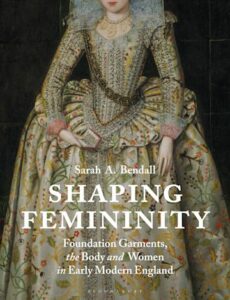 Research in practice has become a desirable goal for many working in the Humanities but rarely can it have been carried out with as much dedication, skill, and panache as in Sarah Bendell's impressive Shaping Femininity. Virtually nothing is known about early modern undergarments, although they were clearly worn by (nearly) everyone. Moving beyond surviving inventories, images and objects, Bendell reconstructed her own garments in order to understand how they shaped the female body The result is a fascinating exploration of a – literally – disguised history, one that shows how female agency shaped and defined notions of femininity alongside the male gaze. Shaping Femininity not only offers a substantial contribution to gender history, it also documents a thrilling research journey.
John Christopoulos,

 

Abortion in Early Modern Italy

 

(Cambridge, MA: Harvard University Press, 2021)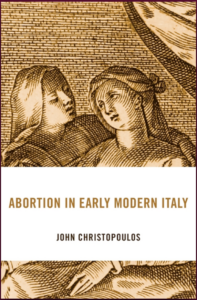 'In sixteenth- and seventeenth-century Italy, women procured abortions and had them forced upon them.' From this unequivocal opening line onwards, Abortion in Early Modern Italy is a triumph of sensitive yet clear-eyed storytelling, on a topic that remains emotive and relevant today. Much of what Christopoulos reveals is unexpected. Drawing on archival evidence from across the peninsula, he shows that men were often the primary beneficiaries of abortion, and that the ambiguities of women's bodies were not only a source of anxiety during pregnancy but also created a space for regulating reproduction, even or especially in Counter-Reformation Italy. There are ironies as well. Medical advice on avoiding miscarriages inadvertently taught women and men on how to encourage them. Punishments might be severe, but the state of medical knowledge and burden of proof made abortion an un-provable crime. Finally, Abortion in Early Modern Italy also implies that scientific advances are not necessarily a panacea for societal issues.
Shortlisted
For nearly two centuries the Church of England sent chaplains to Aleppo to minister to the merchants of the Levant

Company. This wonderful study describes their travails and the remarkable things – 'Turky Labours' – that these Oxbridge-trained savants got up to. Simon Mills draws on manuscripts in an enviable range of languages to conjure up a lost world of cultural exchange. His protagonists played important roles in the Republic of Letters, acting as vital conduits between east and west. They collected rare biblical and Arabic manuscripts, they argued with Catholic rivals and deceived eastern Christians. They travelled to the ruins of Palmyra, went on pilgrimage to the Holy Land, swam in the Dead Sea, all the while taking in and documenting the sacred and ancient landscapes they encountered. Occasionally, they even made a convert. Drawing together the history of scholarship, religion and commerce, Mills shows that the East could be a career well before the advent of European imperialism.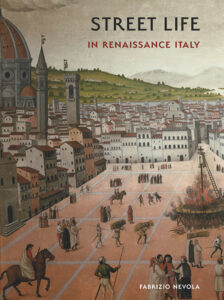 Street Life in Renaissance Italy is a major work of exciting interdisciplinary scholarship that shows readers how the public spaces of Italian cities worked and how they determined the nature of public life in early modern Italian city states. Alive to architectural forms, spatial developments, the rhythms of everyday life, as well as events, spectacular and mundane, the book is based on wide-ranging, diverse, and innovative research in the archives and from the visual record contained in paintings and buildings. Nevola writes with aplomb about shops, carts, benches, squares, pavements, rituals, riots, palaces, and cathedrals.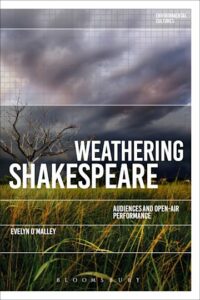 This exciting book brings together Shakespearean studies with literary ecocriticism and climate studies to re-read the natural environment's significance in open-air theatre. From the pigeon that lands unscripted on the Globe's stage during a performance of Macbeth, to the framing of such plays in woodland idylls, or on a cliff-edge, O'Malley shows us the affective impact of the unexpected and the planned effects of the natural environment during performance. Differing weathers give us differing experiences of the same work; each time, the audience interacts with the cast, theatre, physical scenery, and the rain, sun or wind. An ambitious work, it exemplifies the multidisciplinary aspirations of Renaissance studies in its experimental use of historiographic audience research and ethnographic fieldwork. With nature revealed as intrinsically part of our cultural environment, and not distinct from it, O'Malley's findings hold important implications for concerns over climactic change today and in the future.