The SRS book prize 2020 has been awarded to Hannah Murphy for A New Order of Medicine: The Rise of Physicians in Reformation Nuremberg (University of Pittsburgh Press, 2019). An honourable mention was given to Abigail Brundin, Deborah Howard, & Mary Laven, The Sacred Home in Renaissance Italy (Oxford University Press, 2018). The judges thank the publishers for sending copies of the books: they received over forty book this year and, as ever, the standard was extremely high and underscores the vibrancy of our field.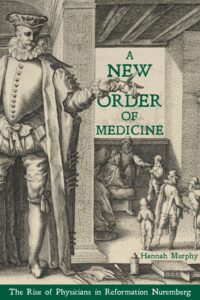 Hannah Murphy's A New Order of Medicine: The Rise of Physicians in Reformation Nuremberg is an exemplary work of scholarship – of history, of intellectual history, of history of medicine – and a model of outstanding scholarly writing. We are delighted to award it the SRS Book Prize. The title is a little dry, perhaps, but in stark contrast to its contents. Physicians, apothecaries, scholars and their families traverse its pages, as Murphy pursues what she describes as 'the multiplicity of paths that physicians could take to deal with the challenges provided by medicine … [often] carried out within the confines of Galenism rather than in opposition to it' (p. 96). Thoroughly researched, meticulously supported with a wealth of primary evidence and secondary sources, its alertness to changes in the social and political spheres as much as the medical is a real strength.
Consistently engaging, concise and incisive, it is full of subtle insight and rigorous analysis, and manages to keep surprising and delighting the reader with the story it has to tell. The judges found it unanimously compelling, engaging and persuasive in its account of changes in medical practice and regulation in a sixteenth-century city of the Holy Roman Empire.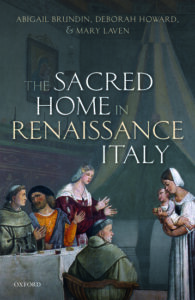 The Sacred Home in Renaissance Italy, co-authored by Abigail Brundin, Deborah Howard and Mary Laven, is a powerful testament to the possibilities of scholarly co-authorship. The rich and comprehensive survey of domestic piety in Renaissance Italy that the authors produce is one that has (and will) have a big impact on the field. The judges were particularly impressed by its successful interweaving of material history, textual history, women's history, art history (of course) and literary approaches to produce a new and necessary perspective on the everyday practices and values of Italian Renaissance life. Among its strengths are the clarity and resilience of its overall conceptualization and chosen methodologies, the focus on rural as well as urban life, the impressive integration of gender into the primary work of the book without making it a 'special-interest' focus. We are very pleased to award it an Honourable Mention in the 2020 Society for Renaissance Studies Book Prize.