The Society for Renaissance Studies organised four panels at the English Shared Futures conference, which ran from 5th – 7th July 2017 in Newcastle. This conference was the first of its kind in the UK, drawing together researchers and teachers of English: it was organised by the English Association, University English and the National Association of Writers in Education, with the support of the Institute of English Studies and the Higher Education Academy. The SRS was one of several learned societies to be at the conference and, with the British Shakespeare Association, demonstrated how wide-ranging and far-reaching the study of Renaissance literature is in the UK. English is the biggest subject area in the Arts and Humanities in Higher Education and it is broad: not only encompassing language, creative writing and over a thousand years of literature, English also draws from other disciplines in its critical approaches. In bringing together for the first time the entire discipline, English Shared Futures enabled delegates to learn about areas of the subject that they might not ordinarily engage with, and to also discuss how we teach, research and take the subject beyond the lecture hall and seminar room.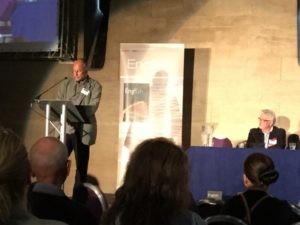 SRS chair, Andrew Hadfield (Sussex), with Kathryn Hughes (UEA) and Martin Stannard (Leicester), formed the first plenary panel on Biography. This panel questioned how we understand the genre; Hadfield's closing remarks drew attention to the need to have biographies of a range of figures, and not just the 'big names'. Such comments chime with trends in Renaissance studies, where research into the everyday and popular culture has unearthed the complex relationship that the Renaissance has with its past and its future: this demonstrates the need to be sensitive to the sociopolitical and anthropological concerns that often underpin our understanding of the Renaissance. These more general concerns fed in to the four SRS panels at the conference, which were round tables on public engagement, teaching non-canonical texts, new technologies and diversity in the classroom, and future directions.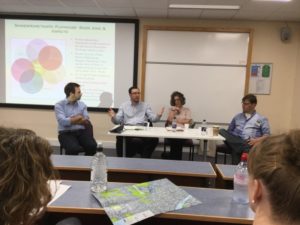 Daniel Derrin (Durham), BBC New Generation Thinker Tom Charlton and Elspeth Graham (LJMU) reflected upon their experiences of public engagement with schools, via radio broadcasting and in the local community. Different audiences require different modes of engagement, but what was perhaps most striking about this session were observations regarding the symbiotic relationship of outreach: Graham is involved in Shakespeare North, an ambitious project to build a Jacobean-style theatre on the site of the first indoor theatre in Britain in the post-industrial town of Prescot. We tend to think of 'outreach' as imparting knowledge to the general public, but much can also be learned from local communities, perhaps particularly through the aural histories and stories that have been handed down.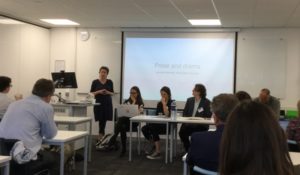 This mutual sharing of ideas is something that many tutors are familiar with in the seminar room. In recent years, major editorial and digital projects have made lesser-known texts more readily available to undergraduates. In the first SRS panel on teaching Renaissance literature, Claire Canavan (York), Andrew Hadfield, Kevin Kllleen (York), Jennifer Richards (Newcastle) and Cathy Shrank (Sheffield) asked how these projects could inform the development of the syllabus to allow students access to non-canonical texts. A lively discussion centred on how to balance the syllabus to reconcile the need to include canonical authors on syllabi with the desire to include lesser-known writers (perhaps especially women writers who were largely overlooked before women's writing modules unearthed the various ways in which women's writing enriched English literature) and to show how diverse Renaissance literature is. What constitutes the canon, what to include on the syllabus and what to overlook is historically-situated and tells us much about our assumptions regarding cultural capital and how the discipline has developed. Through exploring how it is taught and disseminated, the SRS is at the forefront of addressing issues raised by Renaissance literary inheritance.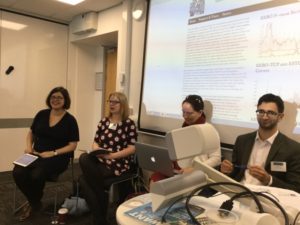 The rise in interest in popular culture not only encourages a more anthropological approach to how we consider text and context, but also brings with it a more nuanced understanding of how texts circulated and were received during the Renaissance. Survey courses anthologise Renaissance literature, providing students with a snapshot of this rich, diverse and often culturally alien subject. Yet the choices we make in designing course content impact initial perceptions of the subject. This concern about how we design and deliver course content was addressed by Douglas Clark (Exeter), Emma Kennedy (QMUL), Elizabeth Evenden-Kenyon (Brunel) and Kirsty Rolfe (QMUL). Discussions addressed the practicalities and realities of teaching, including the role of the HEA and other modes of training in teaching and learning; the ways in which we can ensure consistency of teaching and learning when many early career academics find themselves on fixed term contracts; how to engage a diverse student body, especially when they might not feel that Renaissance literature is relevant to them. Evenden-Kenyon shared with us her methods for ensuring an inclusive yet intellectually challenging classroom, which included setting ground rules about objective (as opposed to subjective) responses to not always palatable texts. Clark used case studies from his own teaching to show how digital technologies can be used to enhance teaching and learning Renaissance literature; the innovations in digital humanities enable alien and often non-canonical texts to be accessible to students.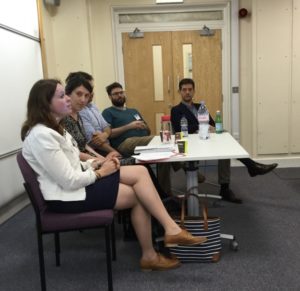 Research underpins teaching and outreach, and the final SRS-sponsored panel brought together a range of early career academics (loosely defined by the AHRC as researchers within eight years of receiving their PhDs) to talk about new directions in Renaissance literature. Tamsin Badcoe, a lecturer at Bristol, discussed how considering the relationship between the environment and text enhances our understanding of literature; Brett Greatley-Hirsch (Leeds) discussed how digital humanities enable exciting projects that connect with vexed issues such as questions of authorship, but also allow greater access to Renaissance texts – sometimes through the medium of witty memes; Eoin Price (Swansea) discussed the relationship between play text and the play house and Daniel Starza Smith (KCL) gave a practical demonstration of the material text by showing the ways in which letters were folded and sealed and discussed how this affected their reception. Esther van Raamsdonk, who, this year, received her PhD from the University of Exeter, talked about the need to recognize the European context for English Renaissance literature, with particular attention to Anglo-Dutch connections. This panel not only demonstrated the vibrancy of the field, but also its interdisciplinary focus and the importance of situating English Renaissance literature in the context of wider cross-disciplinary concerns regarding how the Renaissance is understood.
Collectively, these panels showed how rich the field is. They drew attention to the interdisciplinary nature of much teaching and research of the Renaissance: although focussed upon English Literature, much of the discussions unlocked the Renaissance period more broadly.
Rachel Willie is Senior Lecturer in English at Liverpool John Moores University.