Due to the ongoing travel restrictions and disruption caused by Covid-19, a number of book launches and other events of interest to our members have been cancelled or postponed. In the first of what the SRS hopes will become a regular series, we have invited members of the editorial team for the Oxford University Press Reliquiæ Baxterianæ to share some words on the edition, in lieu of the book launch that was due to be held in conjunction with Dr Williams's Library on Friday, March 20th 2020.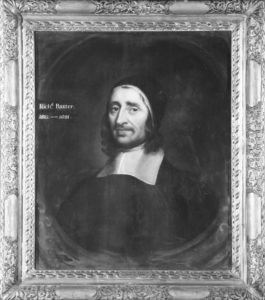 For the last twenty-five years of his life the Puritan divine and nonconformist leader Richard Baxter (1615-91) worked intermittently on a variety of autobiographical papers that were intended as a rejoinder to the prevailing public narrative of seventeenth-century history. In place of the royalist accounts that characterized the Puritans as seditious fanatics and held them (and chiefly the Presbyterians) responsible for the civil wars and Interregnum regimes, Baxter offered an alternative history that saw the persecuting Laudians on the one hand, and the enthusiastic radicals on the other, as the architects of Britain's troubles. There was, of course, no chance that such a challenge to the officially authorized narrative could be printed during his lifetime. It appeared posthumously in 1696 as an 800-page folio edited by his younger ministerial colleagues Matthew Sylvester: Reliquiæ Baxterianæ: Or, Mr. Richard Baxter's Narrative of the Most Memorable Passages of his Life and Times.
Sylvester worked heroically with the mass of papers left him by Baxter, but the 1696 folio presents a number of difficulties. It is textually unreliable (Sylvester 'tidied up' Baxter's prose and omitted sensitive passages), structurally confusing and inadequately indexed. Its narrative is henc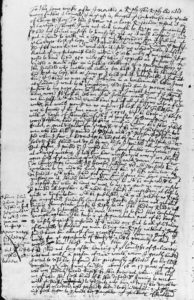 e not easy to follow, and its wealth of first-hand data and references to many hundreds of individuals largely elusive, if not inaccessible. The publication of the first scholarly edition of the Reliquiæ by Oxford University Press is intended to make Baxter's text fully and reliably accessible. The edition is based upon Baxter's own autograph where this is extant (which it is for about half the text, in Dr Williams's Library and the British Library) and has a supporting editorial apparatus that includes: general and textual introductions giving a comprehensive account of the text's composition and formation, its generic character and purpose, and its reception history; a linguistic and historical glossary providing contextual information; a detailed chronology; the fullest bibliography of Baxter's writings yet compiled; and four indexes, of persons, places, Baxter's works and topics. It is hoped that this will allow Baxter's unique combination of autobiography, historiography and apologetic to take its place beside such witnesses to the age as Burnet, Clarendon, Ludlow, Morrice and Pepys.
Baxter has several claims to be set in this company. His point of view makes what he called his 'Record to the Notice of Posterity' unique as a primary historical source. It is both a detailed eye-witness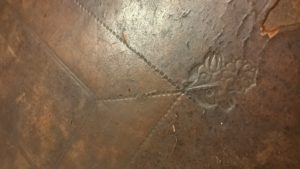 account of key events and an impassioned vindication of moderate Puritanism against the misrepresentation of royalist histories. In Baxter's narrative, the key events are not the regicide and Restoration but the downfall of Richard Cromwell achieved by the sectaries in early 1659 and the persecution of dissent following the defeat of comprehension in 1660-62. Secondly, no other early modern example of life writing so fully explores the contingent relationship between external events and personal spiritual and emotional experience. The Reliquiæ is both spiritual autobiography and a history of public affairs. Thirdly, Baxter's astonishingly wide-ranging interests and inveterate curiosity make for a remarkable compendium of seventeenth-century intellectual, religious, political and cultural life. And finally, in an age when acrimony, partisanship and bigotry became the defining feature of public life, political and ecclesiastical, Baxter compellingly argues that the only way to safeguard the individual conscience – that is, the dignity of the individual – is to hold to a middle way between extremes: 'True mediocrity is the only way that's safe'. His history demonstrates the perils of placing too much trust in coercion and, persecution, and, above all, in dogma, oaths, creeds, subscriptions and platforms – in short, in words: 'No particular Words in the World are Essentials of our Religion'. To insist on any linguistic formula as the way to harmony in church or state is futile: it is simply to 'multiply controversies, and fill the minds of men with scruples, and ensnare their consciences, and engage men in parties against each other to the certain breach of Charity'. Baxter himself disagreed with almost everybody, but his inclusive churchmanship could accommodate almost anybody. In short, his great theme is the management of difference and diversity.
Neil Keeble is Emeritus Professor of English at the University of Sterling and lead editor of Reliquiæ Baxterianæ: Or, Mr Richard Baxter's Narrative of the Most Memorable Passages of his Life and Times
Tom Charlton reflects on verbosity, sedition, interpolation and Baxter